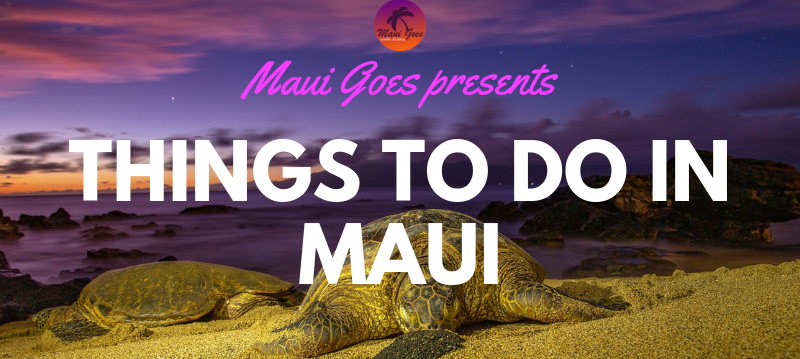 If you ever have the luxury to visit Maui, you are in for a treat. Maui has been voted the Best Island in the World for good reason. To make the best of your vacation, you have to find things to do in Maui.
The following are ten things you should considering doing while on Maui.
1. First Thing To Do: Visit The Beach.
The most obvious thing to do on Maui is to go to the beach. The option to go to the beach with a cooler full of snacks or splashing around in the water is always a day well spent. A cooler, umbrella, maybe a lawn chair and some sunscreen will be all you need. A beach day with kids or adults will certain be enough to keep everyone happy and content all day. A quick jump into the ocean can wash away stress and be food for the soul. One of my favorite beaches is Mokulei'a Bay Beach.
MOKULEI'A BAY BEACH ("SLAUGHTERHOUSE")
Popular Activities: Snorkeling, bodysurfing
Access: Mokulei'a Bay Beach is 2.5 miles north of Kapalua. The beach at Mokulei'a Bay isn't immediately visible when driving along Hwy. 30. A dozen parking stalls are available on the left side of the road. The parking stalls lead to a set of stairs. The beach is a two-minute walk from the end of the stairs. The trail leads to the sandy beach.
Conditions: Mokulei'a can be very windy. Early mornings would be the best time to avoid the windy weather. The summer months would be the best time for snorkeling and scuba diving since the shores will be calmer and flatter. The winter season brings larger swells of waves and attracts thrill seeking surfers and boogie boarders.
Tip: Arrive early for a parking spot. The time to reserve your space would be before 8 am. The best snorkeling is in the rocky cove on the far right-hand side of the beach.
Check out my list of the best Maui beaches HERE
2. Go Out To Eat.
Maui is a melting pot of cultures that offers a large variety of genres of food. There are so many possibilities of places to eat on Maui that I will continue to blog about the food scene on Maui on a constant basis. Maui restaurants come in all sorts of price ranges which offer plate lunch to fine dining. The laid back culture can be seen and felt throughout the food scene on Maui. One of the best aspects of dining on Maui is the relaxed island attitude that can be found in just about every restaurant.
For my list of best restaurants on Maui click HERE.
3. Go On A Hike.
Maui has a good amount of quality trails to offer in terms of hiking. Hiking is also a great option of getting exercise, even during vacation. Hiking on Maui is a great way to get the exercise we all say we need. Puu Olai aka Red Hill in Makena is challenging but the reward of a sweeping ocean view is well worth it- just don't forget shoes! Waihe'e Ridge Trail is also a great work out and provides amazing vistas of the ocean, green valleys and waterfalls in the distance. If you want to avoid the hot sun during the hike, you can partake in a hike full of shade and tall trees at the Makawao Forest Reserve.
For a list of my favorite hikes on Maui click HERE.
4. Go Paddleboarding.
Paddleboarding has emerged as a fast growing activity. There is likely to be a paddle boarder in the ocean as you drive by the beach. Paddleboarding is an interesting activity that can vary in terms of physical exertion. Paddleboarding is great way to set out into the ocean for some fun and exercise.
5. Go On A Whale Watch/Boat Trip.
The ocean and the view is undoubtedly one of the best things to do on Maui. One of the best ways to make the best of any ocean side experiences would be to participate in a whale watch. No matter how long you have lived here, the return of the humpback whales is always an exciting time. A whale watch, snorkel tour, sunset cruise or any type of boating activity on Maui is a must do on vacation. Everyone that has the luxury to visit Maui should experience this great luxury at least once.
6. Watch A Sunset.
One of the most simple yet rewarding things to do on Maui is to just stop and take in the sunset. Your day can always be rejuvenated by taking the time to relax and gaze into the beautiful blue sky as the sun lowers into the horizon.
7. Visit Lahaina.
If you're in need of some gifts, souvenirs or just a little people watching, then head up to Lahaina. Lahaina has a great hub of Maui culture filled with high quality art galleries, historic landmarks, great restaurants and interesting shops. All of these establishments also offer a great ocean view being located along the shoreline. Take your time to stroll around the Banyan Tree, check out the Old Courthouse and duck into a few shops.
8. Visit Upcountry.
When you just need a day off from the beach then a trip upcountry is your cure. The cooler climate can be a especially welcome change if you have had a bit too much sun. A day upcountry would not be complete without stops at Ali'i Kula Lavendar Farm, Ulupalakua Winery and General Store and the Farmers Market on Kula Highway.
9. Visit Pa'ia.
Paia is a captivating and diverse town with unique shops and some of the island's best restaurants. Pa'ia is a small town made up a few blocks that punches above its weight. Pa'ia Bay is full of great surf and there are dozens of great shops and restaurants to sate your appetite.
10. Visit Hana.
If you are in need of a little breathing room then Hana is the perfect setting. The lush greenery, rugged shoreline and slower pace of life will remind you to take a deep breath and enjoy the moment. The drive itself is an adventure. Hike around Hana and enjoy the scenery. Above all else, make sure to take a minute to appreciate its untouched beauty.
So there you are. Maui obviously has more than ten things to do. But when you are on Maui, you should definitely consider do all ten of these "things" while on Maui.
What are some things you plan to do or have done on Maui? What do you think of my list of things to do on Maui?
Stay tuned for more related posts to this topic. Links to related posts will be added to in the future. Related posts will add on to every thing I discussed in this post.
Check out the rest of our blog.
Lastly, don't forget to comment, and share this post. Mahalo.